Meet Our Team
15 Staff Members, Professional and Experienced, and All Dog 'parents' too.
Our Camp Manager, Assistant Camp Manager, Camp Supervisor, Camp Coordinator, and Quality Assurance Supervisor – along with all of our Camp Counsellors – work hard every day to ensure that every camper has a fun and safe experience!
We share your love of dogs, and when it comes to the care of our own dogs we expect nothing but the very best. We miss our dogs when we're apart from them, and we certainly understand that you'll miss yours, too. But camp is fun, and we do our best to give each camper a wonderful experience while your'e away!
Our camp counsellors are all dog owners and dog lovers too. They are thoroughly trained to ensure that every dog at camp is enjoying his / her camp time. And each dog is always given personal love and attention.
Get to know our team of dog care professionals below. We all look forward to meeting you in person!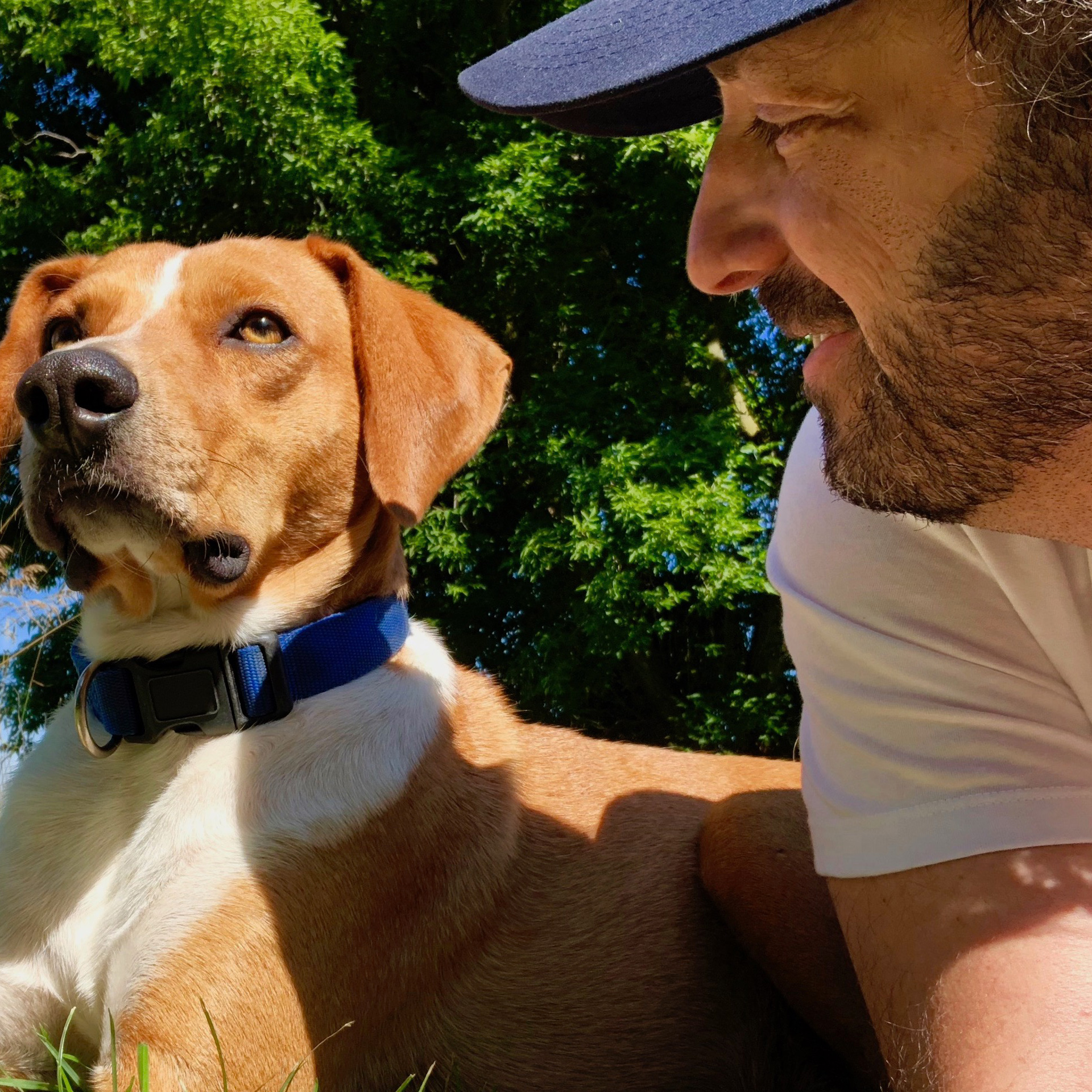 Camp Founder / Manager
Glen Kowarsky opened Dogs at camp way back in 2002! At the time, he had adopted his beloved Abby, who was a black lab mix. Abby had some challenging health issues, and as a result, Glen was moved to create a place for and about dogs like Abby – and for their owners. The result was Dogs at Camp – the first camp for Dogs in Ontario!

Pictured above is Glen with "Wifi' – his current canine buddy, also a rescue from the streets of South America.

Glen wrote an article about 'what goes on behind the scenes' at Dogs at Camp, and how they care for all of their campers, which was published in Toronto's 'Dogs Dogs Dogs' newspaper. If you'd like to read that article – click here. Glen continues to ensure that the entire camp team works together to provide a positive and safe place for dogs, as well as an outstanding experience for their owners.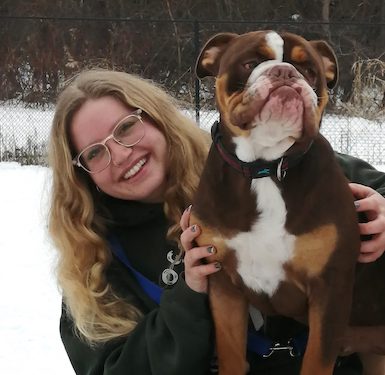 Assistant Camp Manager
Hi there, my name is Tara and I am the Assistant Manager at Dogs at Camp! I started working here at the beginning of 2018, and have been enjoying my role ever since. I am a dog mama to a crazy Chocolate Lab named Java, and have had pet responsibilities my whole life. I am an independent gardener during the growing season, allowing me to also tend to the gardens here on camp grounds. I treasure the work that is involved here, as it is so rewarding to participate in creating an environment your dog(s) will thrive in. Camp is such a great avenue for stimulation and exerting excess energy, providing a boarding experience like no other. We see so many positive transformations, where gaining the trust and creating relationships with your beloved pets are honestly the best parts of working here. Looking forward to meeting you and your dog(s)!
Camp Coordinator
Melissa began volunteering at camp in 2002, started working the following year, and more recently became a camp supervisor. She's been hooked since day one, and can't imagine working anyplace else! Melissa says her favorite thing about working at camp is spending the day with the dogs, but more specifically forming bonds with them, getting to know their quirks, and watching less confident dogs become more comfortable.

Melissa adopted her first dog, Logan (a Border Collie/Beagle mix) in 2004 after he was found as a stray; however he sadly passed away in 2013. Currently shares her home with two former barn cats, Connundrum and Mystery, and her dog Petey, a Jack Russell/ Beagle mix who was rescued before entering a high kill shelter in Kentucky. In her spare time Melissa enjoys spending time with her pets, hiking, and doing photography. She is also a strong believer in adoption and has fostered two dogs in the past, both of whom were successfully adopted!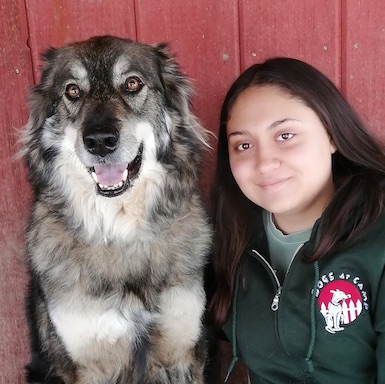 Camp Counsellor
Hi, my name is Merina and it is a pleasure to be a member of the team at DAC. I am an all around animal lover, and love that I get to spend my days with the dogs! The dogs have so much fun at camp, and it's amazing to be apart of the experience! I can't wait to meet your fur babies!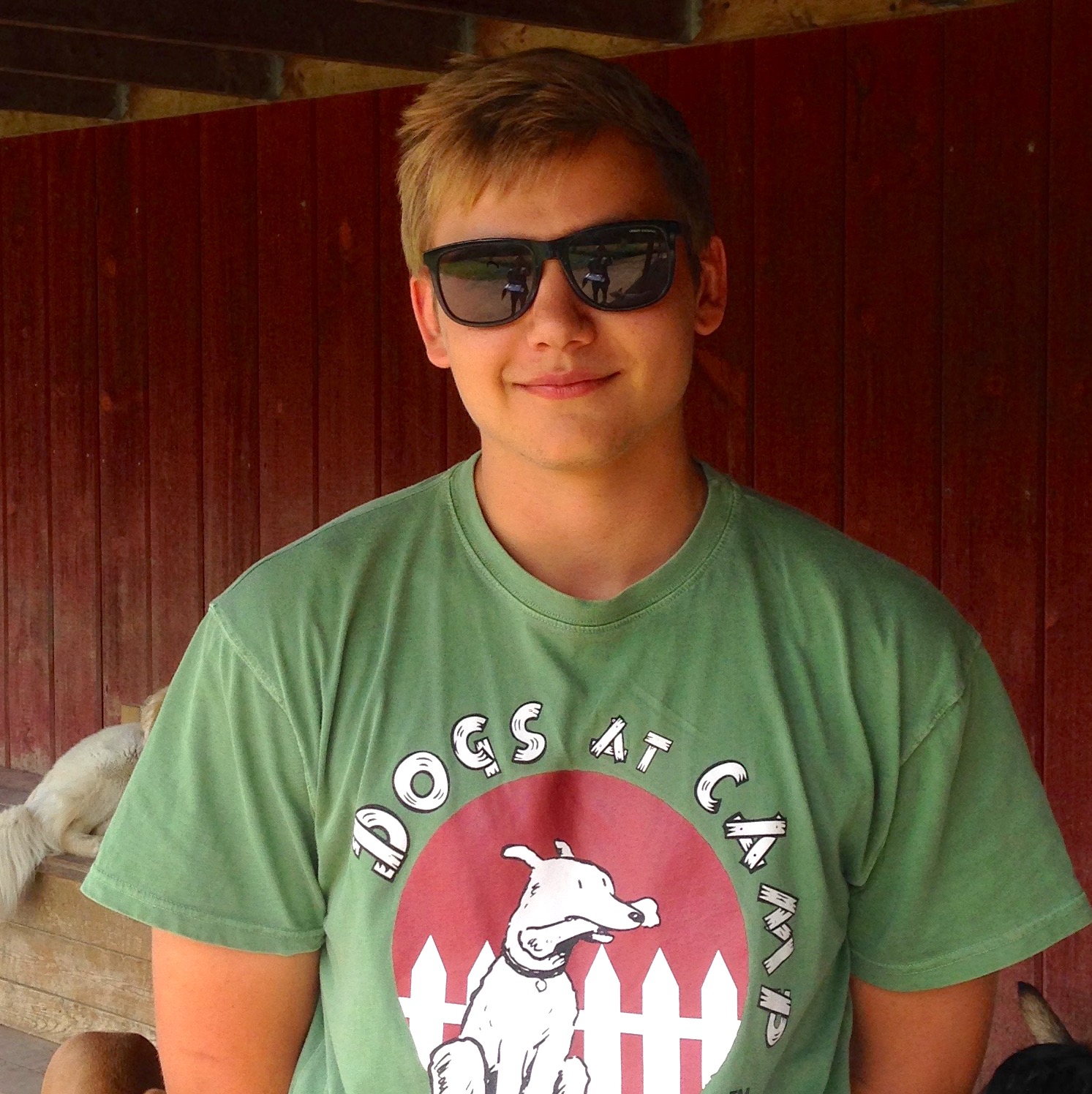 Camp Counsellor
My name is Mark and I've been working at dogs at camp since late 2017. Taking care of dogs is great and I enjoy working with the other staff. I play hockey, swim and love to hike so taking the dogs on trail walks is a lot of fun for me! I have two young golden retrievers that come to camp at times- Tucker and Bower.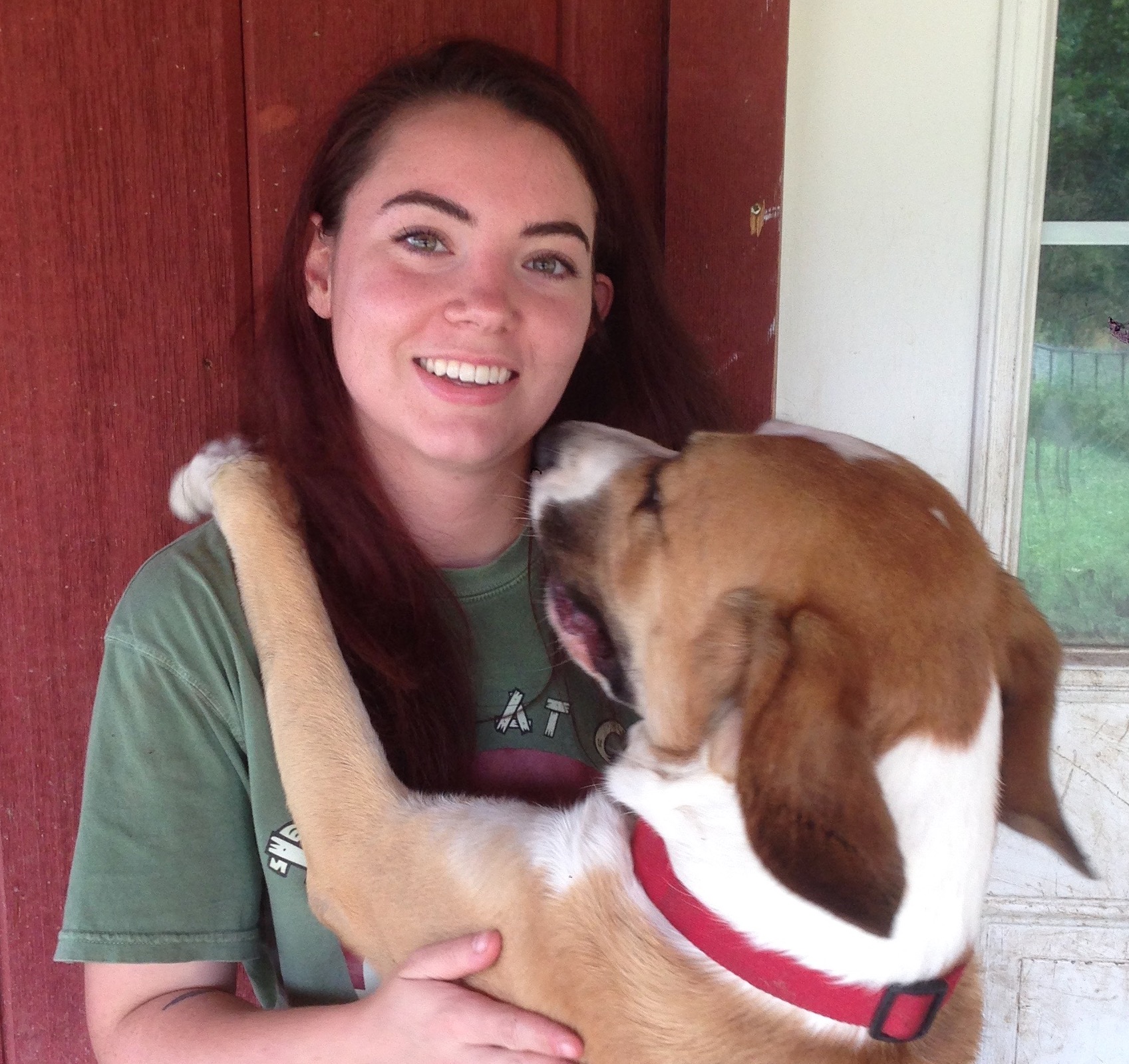 Camp Counsellor
Hi my name is Jessica and I'm a worker here at Dogs At Camp. Being a Vet Tech, I am getting a different type of experience and insight on the dogs that I wouldn't get anywhere else. I love dogs and even have one of my own, a 2 year old Aussie named Misha who gets to enjoy camp along side me.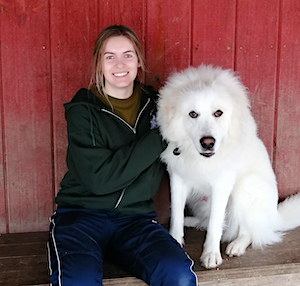 Camp Counsellor
Hi, my name is Kristy. I don't have a dog of my own so I love coming to camp to snuggle all of your furry friends! I really enjoy meeting all of your dogs and getting to know their unique personalities! Outside of camp I am either teaching kids how to ice skate or studying for school.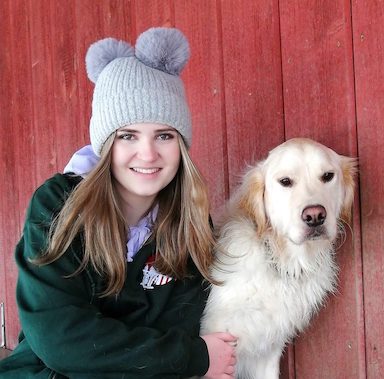 Camp Counsellor
My name is Ashleigh, I am so excited to be working here at dogs at camp. I love dogs and I am grateful to have two of my own at home, they are both black labs named Sadie and Lexie. I love spending my day with the dogs here, it is such an amazing experience and opportunity to take care of them.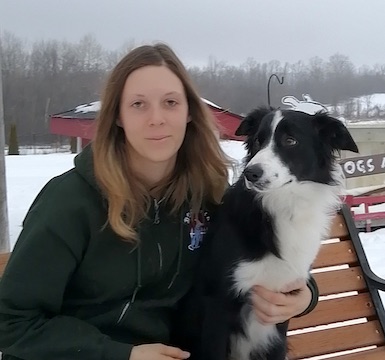 Camp Counsellor
Hi my name is Madison, I love working at camp because I have a huge passion for animals and have grown up with lots of pets. I currently have 2 Border Collies, cats and a horse I show on weekends! I also work at a vet clinic and will be going to school to become a vet technician.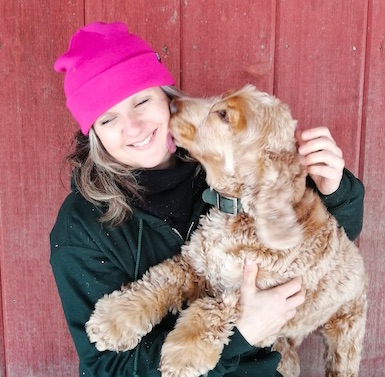 Camp Counsellor
Linda: As a dog mom, animal lover and nature enthusiast, working here at Dogs at Camp is true happiness. After years of a long city commute and sitting at a desk, I joined the team at Dogs at Camp because I wanted to work for a healthy, high quality, detail-oriented business where people truly care, and where everyone strives to do the best job possible because it's the right thing to do, and they love doing it. In the past, I had brought my own dog here for day camp and holiday boarding. After the tour and full camp experience I thought "I want to work there!". Lucky me, they took me on and so my days are filled with good hard work, fresh air and pure doggy joy.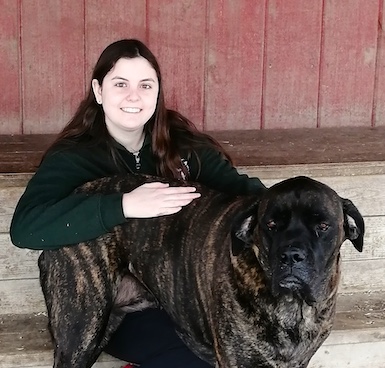 Camp Counsellor
Hi my name is Tegan and I have the pleasure of working at Dogs at Camp. Growing up with a Bernese Mountain dog, I developed a strong passion and love for all animals at a young age. I have loved every minute I have spent at camp and I am so thankful for all the opportunities it has given me. My favourite part about camp is getting to know all the different dogs and their personalities!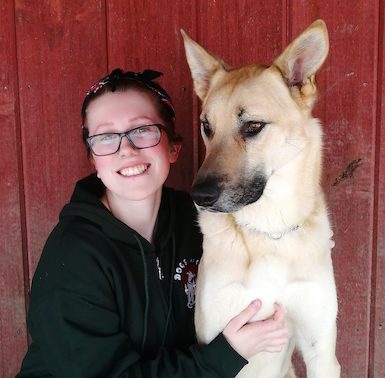 Camp Counsellor
Jessica: I've always loved and had a passion for dogs. I do not own any but that's what makes working here so much better! I love seeing the timid and anxious dogs transform into more confident and social dogs. My knowledge on dogs and their behaviours and body language has increased a lot since working here. I can't imagine not working here, I wake up happy and excited to come into work every single day. Every day is a new adventure!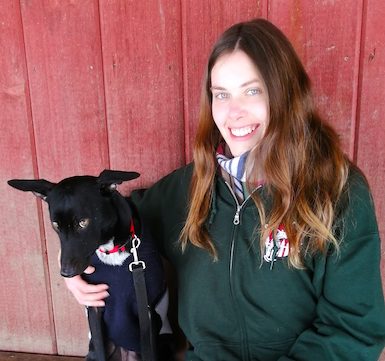 Camp Counsellor
Hi! I'm Steph. I enjoy reading, traveling, camping, playing sports, doing DIY's, and of course, hanging out with my dogs! I'm a dog mom of two. Brisco, who's a Border Collie/Shepherd, and Ranger who's a German Shepherd. Working at camp, It's fun getting to meet different dog breeds, and personalities. Every one is so unique! Thanks for letting me hang out with your fur babies. They sure know how to find and hold a place in our hearts. Can't wait to make more memories with your pups! See you around camp!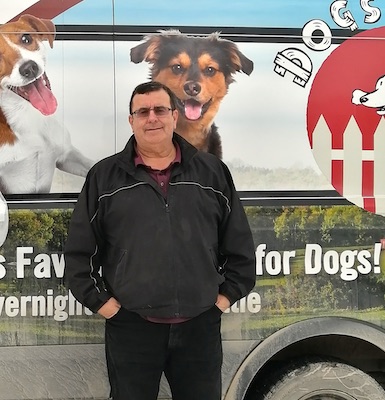 Shuttle Driver
Lorne: I have been an owner of dogs for over 35 years. So when my family was looking for a new kennel experience for our dogs we came across Dogs At Camp. We were immediately taken by the incredible concept of letting dogs have freedom and fun within a supervised environment. We thought the staff were amazing. Every time our dog Coco, a chocolate Lab, comes home from Camp she is exhausted from having so much outdoor fun and stimulation. So when I saw the Camp was looking for a shuttle driver I thought why not apply, I have the time. I am a retired executive from the banking industry and I love dogs and I love to drive and I really believe in the Camp concept created by Glen Kowarsky. So it made perfect sense to join the team.